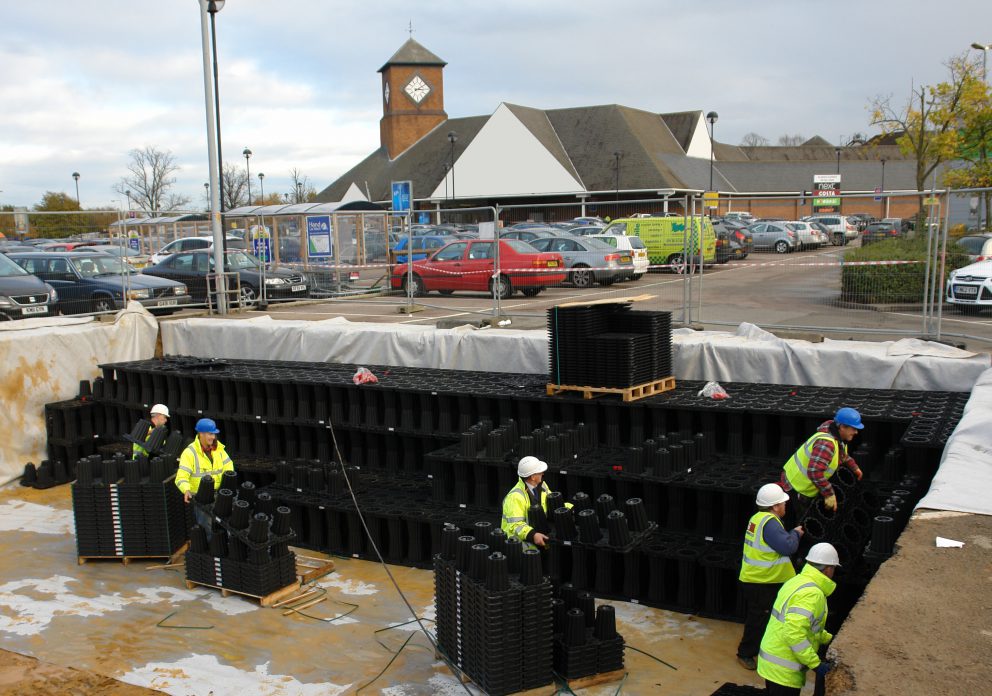 Commercial & Industrial Offering
PDM and Civils & Lintels are the UK's leading distributor of drainage and heavy side solutions to the housebuilder and groundworker market, specialising in plot drainage, attenuation and ground stabilisation solutions. Our large stockholdings and dedicated fleet ensure that your site is serviced with project quantities when and where you want it.
We can offer value added solutions for your projects; starting with ground stabilisation which can reduce the depth of stone required when levelling a site or creating roads by utilising geogrids and geo-membranes; additionally we offer a fully indemnified design service with materials delivered ex-yard to ensure that delays on site are kept to a minimum.
We also stock a comprehensive range of underground drainage pipe & fittings from 110mm to 300mm for delivery or collection and keep in stock an extended range of standard and twin all ducts and chambers.
In large commercial and industrial schemes, managing surface water run off is critical and we are able to provide various solutions for the capture, transportation, storage, cleaning and discharging of surface water. Likewise we are once out of the ground we are able to supply all of your landscaping requirements from standard flag & kerb, to street furniture.
Below is a list of our key product ranges:
Attenuation
Linear/kerb drainage
Ground stabilisation
Surface water & foul drainage systems
E class, manhole covers & frames
Decorative landscaping
Street furniture
Polystorm

Polystorm Geocellular System for deep applications, the tried and tested Polystorm geocellular range is designed to provide surface water retention, surface water attenuation or surface water infiltration at a variety of depths.
The Polystorm geocellular range is ideally suited to deeper applications and can accommodate a wide range of traffic loadings, from pedestrianised areas to large HGV parks.
The Polystorm geocelluar system can also be integrated with Permavoid systems.
The modular cells combine to provide water storage structures to help with localised flood alleviation and surface water management. Each cell has a 95% void ratio and provides a highly efficient water retention, attenuation or infiltration solution.
Polystorm Geocellular Features & Benefits
95% void ratio providing greater water storage capacity with reduced excavation and disposal costs
3D flow throughout the structure removes the need for distribution pipes
Access for inspection and maintenance can be facilitated by the inclusion of Polystorm Access and Inspect
BBA Approval for Polystorm-R, Polystorm Lite and Polystorm. BBA pending for Polystorm Xtra
Modular units allow flexibility of shape, ideal for narrow strips or restricted areas
Lightweight yet robust, affording excellent Health and Safety and installation benefits
Unique rounded corners for ease of use and reduced likelihood of membrane punctures
Load bearing capacity from 20 to 83 tonnes per square metre
Suitable for non-trafficked, trafficked or heavily trafficked applications
Suitable for retention, attenuation and infiltration systems
Up to 60 year design life
The modular cells are manufactured from polypropylene
100% recyclable at the end of its service life